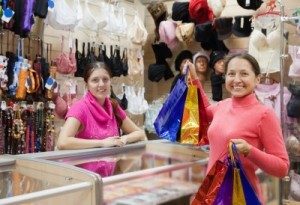 Visual merchandising means presenting things in the most attractive way possible to generate interest and sales. If you're struggling with your store's merchandising, you're not alone. It takes a lot of creativity to create good visuals, and not everyone is gifted in that area. However, you don't have to give up hope. Using these tips you can take a methodical approach to visual merchandising that will have you believing that you just may be artistic after all.
Liven up the area. To generate excitement, you have to create an exciting atmosphere. Think "party". Bring in balloons, streamers, some kind of decoration to make the place look more intriguing. You want people to think, "There must be something special going on in there."
If you don't waste people's time, they won't be in such a hurry to get out of your store. Labeling areas of the store and making it clear where things are categorized and located will help people to have an easy shopping experience, which will make them feel like they have more time to browse and make additional purchases.
Give people a summary of what is going on in the store by creating interesting and informative displays in your store windows. Use mannequins to create real human experiences. This will allow you to show how a lot of your products can be used at once, showing customers how to accessorize with things from your store. This will also help them to visualize what it would be like to own the products if they bought them. This is an important step in the "deciding to buy" process. If they like how the products will make them feel, then they are far more likely to buy. For example, you wouldn't put athletic shoes on a sleeping mannequin, because people want to feel strong and active when they wear athletic shoes.
Make sure that your retail store fixtures are up to par. Nice satin chrome clothing racks reflect light, adding to the sparkle and shine of new products that catch customers' eyes. Heavy duty clothes racks that properly support the weight and volume of your merchandise communicate quality and strength to your customers. This makes them feel as if they can trust you, which is another important part of the "deciding to buy" process.
Following these guidelines will minimize the amount of pure creativity that you have to come up with on your own and make you feel at ease knowing that you are communicating the right things to the right customers.
About the Author: John Garvey is on the staff of Only Garment Racks, a leading online source of heavy duty clothes racks including satin chrome clothing racks. Find a high quality lingerie garment rack or clothing rack at http://www.onlygarmentracks.com.