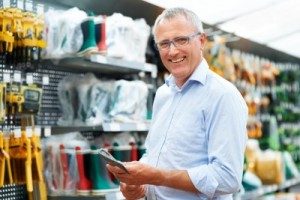 Displays in a retail setting can make or break a store's image. They can inspire customers to think outside the box or bore them into barely glancing or bypassing your merchandise. Products can't sell themselves, so it is up to store owners and retail managers to come up with interesting ways to grab attention, provoke thought, and ultimately incent customers to make purchases.

It is a good idea to periodically revamp your store image. Making sure that things are interesting enough to grab attention in today's visual-driven market is essential. There is so much opportunity for customers to get interested in something other than what you want them to pay attention to, that you really have to concentrate on outsmarting the world around them.
Pay attention to the customers that shop in and around your store. Are they in a hurry? Are they lazily shopping around while looking at their phones? Are they studying details and taking their time to decide what they might be interested in? All of these things are important to note when you're making your retail display plan.
People can easily shop for products, do price comparisons, and look for reviews online as they shop, so it is up to you to give them what they're looking for so that they're not spending all of their time in your store trying to figure a way out of buying things from you. Think about what advantages you have over online stores, mass sellers, and resale sites.
One way to put yourself above the rest is to do what your customers will do. Go online and shop around for the best prices on things that you carry. Make sure that your prices are competitive. If a customer checks a couple of things and realizes that they are already getting a good deal in your store, then they'll put the phone down and trust that they can make purchases from you.
Trust is everything. Use social media sites to continually communicate things that solidify your store image. People can create solid interpretations of you before they ever enter your store. Publish reviews and customer comments so that people feel the acceptance of the community while trusting in the quality of your products and services. You can fulfill many customer needs without ever seeing them, leading them towards making a purchase in your store and ultimately becoming a long-term customer.
Think about why people would prefer to shop in a store as opposed to online. In a store, you can ask questions of knowledgeable employees. In a store you can sample products, feel fabrics, and try on things for fit. In a store you can buy what you want today without having to wait for shipping. Cater to these specific customer desires and you'll build your business from the display level up.
About the Author: John Garvey is on the staff of Only Garment Racks, a leading online source of garment racks including clothing racks. Find a high quality garment rack or clothing rack at http://www.onlygarmentracks.com.