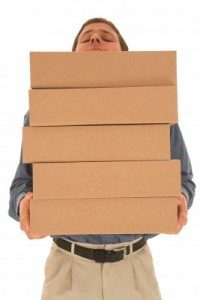 Is your retail space short on storage? You're not alone! Once you find the location and sales area that you like, you usually can't afford to be very picky about the size of the store room. All you have to do is come up with storage solutions that allow you to store your inventory and display products in plain sight, without anyone ever noticing what you did. Intrigued? Read more below.
Using Slatwall to Disguise Inventory
Slatwall is not only a great way to increase the size of your sales floor by utilizing vertical space. You can also use longer bars, hooks, and other slatwall accessories to simply create a little extra room behind each item of clothing. This little bit of extra space barely sticks out further into the sales area and allows you to store your inventory behind your featured items. As things come in, you can simply steam them on a rolling garment rack and roll them out to the floor for "storage".
Using Tables and Shelves
Tables are great for displaying stacks of pants, shirts, sweaters and more. When you select your tables, choose ones with drawers or shelving underneath to neatly store your extra inventory. If you have counter display areas, you can also put inventory into drawers underneath. Decorative dressers, cabinets, and other furniture can also provide you with a little extra room when you need it.
Maximize Space in the Store Room
Use garment storage racks in the store room to get rid of boxes and get things ready for display. Nesting garment racks are great for saving space. Just load them up and push them together. Ceiling racks are great for storing boxes, shelves, display panels, signs and seasonal promotional materials.
Long-Term Storage
If you have to, you can rent a storage space for less money than it would cost to rent a larger retail space monthly. Storage units that are temperature and humidity controlled are best. Use these types of storage units for large displays and retail supplies, like mannequins, counter displays, furniture, and shelving. Getting these larger, seldom-used items out of the store room will give you more usable space where you need it, in your store. Just make sure that you purchase whatever insurance you would need to replace your retail display products if anything were to happen to them. Keeping them safe and out of your daily working area is a great storage option for small boutiques and retail stores.
About the Author:
John Garvey is on the staff of OnlyGarmentRacks.com, a leading online source of garment storage racks, including clothing racks and retail garment racks. Find a high quality garment rack or clothing rack at http://www.onlygarmentracks.com.