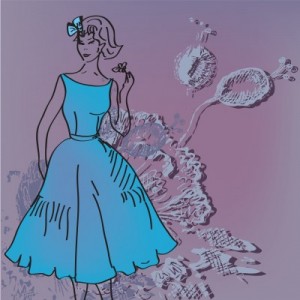 Decorating your store with vintage displays, items, and artwork is a lot of fun and can really make your sales floor interesting. Use these tips for coming up with ideas that will help you to transform your space into the vintage themed wonder you've been dreaming of.
Window Displays
Communicate your theme to your customers by really concentrating on making your window displays stand out. Here you can place vintage dishes, suitcases, clocks, books, and other items that make it obvious what you are trying to do. Vintage wallpaper or tapestries make great backdrops for these items. Use vintage style dress forms and mannequins to display your clothing and accessories. Get creative and have fun with it.
Lighting
Vintage lighting? Why yes! You can help bring out that coveted vintage feel by changing up the lighting. Old steel lighting fixtures are great. Use incandescent bulbs instead of fluorescents. Yellow bulbs are great. Old lamps, hand blown glass fixtures, and old chandeliers are wonderful. You can even make your own light fixtures from old wash tubs or jars.
Flooring
To make your floors look vintage, consider black and white checked tile, distressed hardwood, or some vintage style rugs. Bold patterned linoleum or tiny pattern tiles were also popular back in the day. If you aren't crazy about patterns, go for gold, yellow, teal, light blue, or bright green.
Décor
Try to find some special pieces at your local antique shops and thrift stores. There are also a lot of items online that are new, but look vintage. Get some chairs, dressers, mirrors, bookshelves, end tables and coffee tables to use throughout the store for your displays. Mutli-functional items are best.
Art
Artwork with pictures of vintage clothing, cities with old cars, people using wash tubs or hanging clothes on the line, owls, and other things that were popular in your time period of choice are great. Handmade quilts, doilies, ceramics, paintings and drawings are also great.
Displays
Click Here to see our boutique garment racks, that have a very distinct vintage feel. The details in your displays are what will really count. If you take the time to deck out the store with vintage items, you can't really have a modern chrome circular rack with current plastic hangers on your clothes, can you? Use vintage style hat racks, dress forms, table top displays, garment racks and accessory racks to complete the vintage theme of your store.
About the Author: John Garvey is on the staff of Only Garment Racks, a leading online source of garment racks and clothing racks. Shop OnlyGarmentRacks.com or Click Here for high quality retail racks.