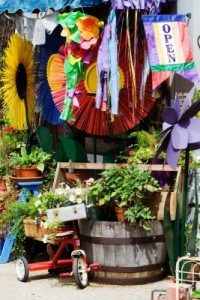 There are several important things to consider when you're creating visual displays for your boutique, but there are also questions you can ask yourself that will help you to be creative as well as effective. We love to receive pictures of the amazing displays that our customers and readers have come up with. Creativity is inspiring. Whether you're trying to make a bold statement about your store image, express your artistic side, or simply increase sales, there are still things you should consider. If you ever find yourself simply putting the new clothes on the rack, then you should really come back to this post and remind yourself about how important it is to put some thought into your displays.
Customers Get Their First Impression in Under Three Seconds
First impressions are everything in the retail world. Customers passing by will make judgments about your business, the quality of your merchandise, your price range, what you carry, and whether or not they are interested in your store in under three seconds. This puts you in a position of needing to grab their attention, earn their trust, and make them want to come in with your displays that they can see from outside the store.
Create your window displays with care. Mannequins help to evoke feelings of trust because they show the customer exactly how your clothing looks when worn. They also don't make people judge themselves, like a supermodel or overly attractive greeter can. Focus on having big and bold enough displays that someone can make their assessment. Then, add in details that will draw them further in and make them want to investigate. Spark that interest and half the battle is won.
Whole Store Shopping
Once inside the store, you will need to create equally as interesting displays that can be seen from afar. This makes people want to investigate deeper and deeper into the store. You also want to hold their interest once they're walking through, so create little "surprise" displays around corners. Make things spacious enough for people to walk through without having to squeeze past other people. Leave room between your clothes racks for strollers and more than one shopper.
Take advantage of vertical space, not only to fit more merchandise in your store, but also to create levels. Creating different levels on display tables, garment racks, and up the walls keeps the eyes moving. You need interesting things to look at throughout the store. Effective visual displays are pleasing to the eye and offer more than one type of item. This is another way that mannequins and mannequin forms are helpful. Utilize them on your clothing racks and wall displays to show people how to pair outfits and accessorize.
Following these tips will help you to grab customers' attention, hold it, and keep them interested in making purchases in your store or boutique.
About the Author: John Garvey is on the staff of Only Garment Racks, a leading online source of clothes racks and garment racks. Visit OnlyGarmentRacks.com at http://www.onlygarmentracks.com.